Achievements of various societies in year 2018-2019
All the cultural societies have been making great strides in their respective fields ever since their inception, earning great accolades across India under the convenorship of Dr. Sangeeta Kaul. The achievements of the different societies in the current academic year (2018-2019) are as follows:
ALLEGRO-THE WESTERN MUSIC SOCIETY
Allegro is The Western Music Society of Sri Aurobindo College although known by only a handful of people and teachers, the society aims in the development of oneself in the field of western music. The society does not entertain posers or students who aren't willing to give it all when the situation demands so. Some of the notable achievements of the society are:
Won the battle of bands at IIMC.
Won the battle of bands at Manipal University, Jaipur.
Judged a battle of band at NIT Delhi.
Judged a Battle of Band at ISBF.
Played a gig at Delhi Fashion and Fun Carnival.
Our president Mr. Hitesh Garg won the best guitarist award at JECRC Foundation, Jaipur.
Made it to the top 2 bands all over india at SeaRocks, BITS Pilani Goa.
MOKSH - THE DRAMATICS SOCIETY
Moksh - The Dramatics Society of Sri Aurobindo College was established in the year 2001 and since then it has been striving for excellence and pushing its limits with every coming year. To it's members it is an environment of learning, observing and improving. The team believes in open expression of thoughts and emotion, forgetting the world behind,
living for the art and most importantly in the motto of 'All for one and one for all'- a family where you weren't born, but earned.
Our conscience drives us to connect with people, touching their hearts and minds, sub-consciously reforming the society by addressing the problems that people are unaware of. The challenges which we might not see, but have a severe effect upon us. Through our plays, we've spoken against Censorship (Year 2016-17), Distortion of Indian History (Year 2017-18) and Preservation of Indigenous Languages (Year 2018-19)
We firmly believe in equal importance of both research & representation, and perform with energy and trust amongst the members. The team has experienced many prestigious and proud moments through the years of its existence such as grabbing various positions and awards listed below:
Second - IIT ROORKEE
First - Jaipuria Institute of Management
First - Technia Institute of Advanced Studies
Second - Bhagini Nivedita
Best Actress ( ANJALI NEGI ) - Sahitya Kala Parishad
Best Script - Sahitya Kala Parishad
Best Production - Sahitya Kala Parishad
Second - Madari
Best Actress ( Anjali Negi ) - IIFT
Third - Janki Devi Memorial College
Special Mention - IMI
First - PRIA YOUTH FESTIVAL 2.0
Second - Bhagat Singh ( Departmental Fest )
Special Mention - FMS
Second - Bharti College
Second - Seen Dayal Upadhyaya College
First - Hindu College ( MEDINA )
First - Periyar Management and Computer College
Third - TERI school of Advanced Studies
Third - Syama Prasad Mukherjee
Best Rap - Lady Irwin College
Best Actress ( GINI SETHI ) - Dr. Ambedkar National Memorial
Special Mention - Hindu College ( MECCA )
Second - New Delhi Institute Of Management
Best Actress ( ANJALI NEGI ) - UDAAN UTSAV
Along with the above achievements we performed our annual street play and stage play production 113 times including 20 guest performances and 25 public performances.
Bandwagons (Fashion Society)
Our fashion society is put together by fashion lovers that take every aspect of fashion seriously. Bandwagons is more than just strutting the ramp in heels. Its aim has been to enlighten people about the issues of gender disparity and has proved to be a perfect portal to put
our fashion acumen to productive use.
This year Bandwagons performed at a talk show on transgender equality organized by Indraprastha engineering college The students participated in several colleges across the country and won the following positions:
First position bagged in Amity University,Bhaskaracharya college, SPM college and SRCC college and
won second position in Technia Institute of Advance Studies, Ramjas College, Kirorimal College BML college and Bhagini Nivedita college.
Pratiik Verma won the best male walk at Rukmini Devi Institute of Advance Studies,
Best male model award was won by Pratiik Verma at Shaheed Rajguru College,
Naresh and Paarth at Jims, Rohini and Paarth at Keshav Mahavidyalaya college.
3Ps (The creative Arts society )
"We are the Art and we portray ourselves" 3Ps is a family full of people from different talent zones encompassing creative heads from fields like Photography, Painting, Sketching, Rangoli, Clay modeling and Craft. Every year in the month of October we celebrate art by conducting an Annual Art Exhibition.
List of proud winners:
Sudhanshu Banotiya won 1st prize in On spot photography competition held at Ebullience'19 by PGDAV college.
Swati Lakshmi secured First position in poster presentation held on 22-02-2019 at Oslava 2019 by Botany department of Sri aurobindo college (M)
Ayush Gupta secured 1st position in sketching competition, Prism of Greys held on 13-02-2019 at Dyal Singh evening college.
Priya Sangwan secured 2nd position in face painting competition, at Hindu Earth Summit 2019, held on 01.02.2019 at Hindu college.
T.R.Greeshma won the 3rd position in water color competition held on 13-02-2019 at *DMA State level competition
Purnima soni won 1st position in Best out of Waste held on 05-11-2018 by Prithvi (Environment Society) of Sri aurobindo college (M)
Sage (Debating Society)
Sage envisions a bunch of good speakers who believe in raising opinion not voice and aim to nurture and build wise and impactful orators who are capable of defending their ideas confidently. Every member of Sage is carefully constructed with the platform of plethora of events from debate, extempore, poetry, to MUN, youth parliament, conferences, etc. Under the guidance of Dr. Aprajita Chauhan, it's been another year of triumph and glory for Sage as our members participated in various events to secure the following prizes: 1. Sage won the best team award for Rural Electrification Corporation debate In Daulat Ram College, 2. Stood first in debate competitions held at Kirori Mal College, Rajdhani College, Aryabhatta College , Shyam Lal, and at G5 Summit held at Shaheed Bhagat Singh College. 3. It also stood first in Harithkram Youth Summit,Delhi, at University Sustainability Forum held at SBSC, as in online debate of Sri Aurobindo College (E). 4. Sage won second prize for the debate held in Hindu College, and 5. stood third in Nandita Rajguru debate at Janki Devi Memorial College. 6. President Aditya Jha and Shubhreet deserve a special mention for bagging a total number of eight and seven awards respectively. 7. Vice president ,Atishaya Mathur won a total of six awards, while Ruvaid won 4 awards.
Taleem (Indian Music Society)
Taleem: The Indian Music Society of Sri Aurobindo College works for the development of music in various fields. Taleem is purely dedicated to finding new possibilities and opportunities in Hindustani and Carnatic classical music, aiming to merge it elegantly with Indian Traditional Folk, Sufi and Bollywood genres to establish interest of student and people in Indian classical music. Under the able guidance of Dr. Vipin Malhotra, the society expanded its musical horizons. Some of Taleem's major achievements for the academic year 2018-19 are:
Its self-composed theme for NOTTO, secured 2nd position at SRCC and was performed at several reputed national platforms such as NOTTO, annual event in Central Park, and Hotel Ashoka for the Ministry of Health and Family Welfare. Secured first position at CVS and second position at Kalindi college. It performed at 'Madaari' and won special appreciation by the Faculty of Music, University of Delhi. It also composed background score for the short film "Tribute to Indian Army".
TRIVIA- The Quiz Society
Quizzing is the art of the intellect. General knowledge contributes to personal enrichment and a better understanding of world as whole. TRIVIA- the quiz society of Sri Aurobindo College, under the guidance of Dr. Rashmi Mathur (Associate professor Department of Botany) proud to present its annual report of 2018-19.
ACTIVITIES:
ORIENTATION: The orientation cum interaction session was held on 31stof Aug. 2018 requiting members for academic session2018-19.
ENTERTAINMENTWAR: An intra college quiz competition was organised by Trivia on 8th of October, 2018 on the subject of 'Sports and entertainment' for1styear and 2nd year students. The agenda of the whole event was to promote the students to show their knowledge and enhance their interests for quizzing. Lots of students participated from different courses and made the event successful.
JIGYASA: the annual general quiz and a CASE STUDY COMPETITION is organised by TRIVIA under the MEHEK 2019, annual cultural festival of Sri Aurobindo College. Both the competitions are open for all undergraduate students across the Delhi University including other universities.
SAWAL-E-SULATANAATE: A Inter college Quiz was organised on 27th march 2019. The theme was India quiz with Delhi focus in which the UG and PG students of DU and other Universities actively participated. The agenda of the event was to enhance the knowledge of students . Also we had an interactive session with quiz master Mr Kaustubh Chakraborty on how to become a good quizzer.
ACHIVEMENTS:
Dhirendra Kumar kushwaha (Founder & President): 1st best team at ARSD college, 1st best team at Motilal Nehru college (E), 1st best team at Sri Aurobindo College, 2nd best team at PGDAV(E) College, 2nd best team at Sri Aurobindo College, 3rd best team at Sri Aurobindo College.
Anuj Maheshwari (Co-Founder): 1st best team at Motilal Nehru college (E), 1st best team at Sri Aurobindo College, 1st best team at ARSD college, 2nd best team at Sri Aurobindo College, 2nd best team at PGDAV(E) College, 3rd best team at Sri Aurobindo College.
Shivansi: 1st best team at Sri Aurobindo College (Quiz on women empowerment), 2nd best team at Sri Aurobindo College.
Kritika: 2nd best team at lady Irwin College, 3rd best team at Janki Devi Memorial College.
Bhanu: 1st best team at Amity University.
Prateek: 2nd best team at lady Irwin College.
Abrar Husain :1st position in satyawati college in defiance Quiz, 3rd best team at JDMC in Snake & ladder on electoral literacy puzzle. And 2nd best team at Gargi College in group singing.
Ritika: 1st best team at Amity University.
Nitish Pandey: 2nd best team at Janki Devi Memorial College.
Vikash: 1st at Satyawati College in monopoly puzzle Competition.
Shivam Goel: 2nd at PGDAV College in IPL Biding.
Harsha: 2nd best team at Sri Aurobindo College.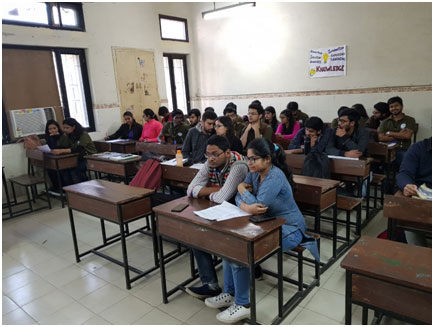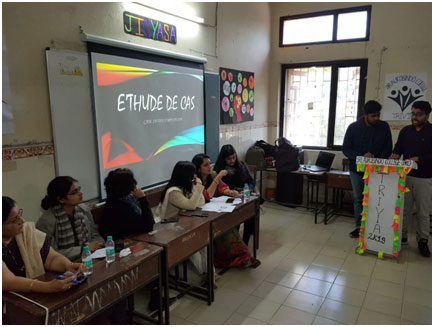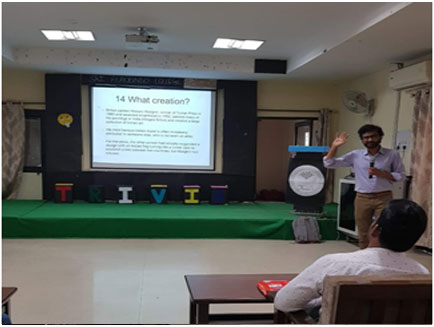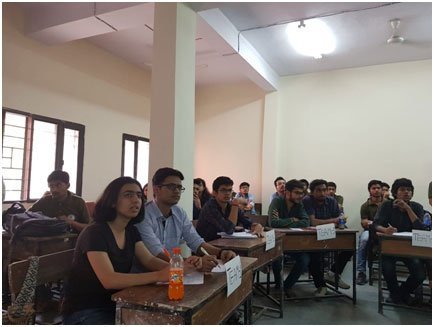 Achievements of various societies in year 2017-2018
Reflecting the cultural diversity of the college, the ten vibrant societies of the college dance, drama, music, fashion, general awarenessand creative arts etc brought numerous laurels to the college under the able leadership of itsCultural Convener - DR. MEETA MATHUR. The remarkable progress of these societies speaks volumes about the talent of our students.
TALEEM INDIAN MUSIC SOCIETY
Attained First position in solo-singing competition at Shyama Prasad Mukherjee College.
Organizeda tribute to Talat Mahmood Sa'ab 'Jashn-e- Talat' in our college in the presence of Ustad Talat Aziz Sa'ab (Musician and popular ghazal singer) '
Performed at the Asian Meet on 25th January, 2018 in front of the Presidents of 10 countries and the Prime Minister of India - Sh. Narendra Modi.
Performed in 'News of Bihar' with popular young playback singer Shree Devand Jha and a renowned tabla player Shree Adhir Das, and at the National Rotaract event of 'Beti Bachao, Beti Padhao'.
Went live with RJ Stutee on Radio Fever 104.
3PS CREATIVE ARTS SOCIETY
Ajay and Shaskiya secured second and third positions respectively for Sculpture at UDAAN Youth Festival of Delhi University and won two cash prizes.
Organized the Annual Art and Photography Exhibition in the college premises in the august presence of Sir John Edwards, an engineer by qualification but a photographer and teacher by choice.
Participated in various competitions at 14 colleges of Delhi University including JMC, DDU, PGDAV, Shivaji, Lady Irwin etc.
ALLEGRO
Attained first position at Dyal Singh College and Ambedkar University
BANDWAGONS THE FASHION SOCIETY
FIRST POSITION
Rajdhani College
JECRC University, Jaipur
Noida International University
SECOND POSITION
Shaheed Rajguru College of Business Studies
Maitreyi College
NDIM College
Satyawati College
JECRC college
THIRD POSITION
Shyama Prasad Mukherjee College
OTHER AWARDS
Best Female Model at JECRC University and Maitreyi College
Best Male Model at Shivaji College
SPIC MACAY
The Spic Macay society has been organizing cultural events, heritage walks in the college for the last three years. This year they plan to organize a Kathak dance performance in the college seminar hall in the last week of Spring'18.
Moksh reached the pinnacle of its achievements this year with a record breaking number of awards, 90 street play performances, 16 stage play performances and prime coverage in The Times of India.
THE ANNUAL STREET PLAY PRODUCTION 'ATITHI BHAVA' Watch Here
FIRST POSITION
IIT Roorkee
Jamia Hamdard
Shaheed Bhagat Singh College
Zakir Hussain College
Shyam Lal College
Yogshala, pragati maidan
Technia institute
Management Development Institute
Jamia milia
IILM Institute for Business management, Gurgaon.
SECOND POSITION
Jaipuria Institute
Dilli Haat
VIPS
Kalindi College
Pearl Academy
Bhim Rao Ambedkar College
Dyal Singh College
Zakir Hussain College (Evening)
THIRD POSITION
College of Vocational Studies
Janki Devi Memorial College
Tecnia Institute
CRUNK THE DANCE SOCIETY
FIRST POSITION
AIIMS
Swayam Sidhh Competition
IMT College
VIPS
I.S.B.F College
FORE School of Management
SECOND POSITION
Sharda University
SAGE THE DEBATING SOCIETY
Best Speaker Prize for Conventional Debate
Sri Venkateshwara college
Maitreyi college
Delhi Institute of Advanced Studies
Shaheed Bhagat Singh college
Motilal Nehru College
Kirori Mal College
Jamia Milia Islamia
2nd Best Speaker Prize for Conventional Debate
Lady Irwin College
Kamla Nehru College
Motilal Nehru College
Maitreyi College (for turncoat debate)
Best Team Prize
REC Debate held in Sri Aurobindo College
PGDAV College
Delhi Institute of Advanced Studies
Shyam Lal College
Shaheed Bhagat Singh College (for Summit)
2nd Best Team Prize
National debate held in Rajdhani College
Dyal Singh College
Shaheed Bhagat Singh College
Bhaskaracharya College of Applied Science
Paper presentation competition in Miranda house College 3rd Best Team Prize
Sri Vivekananda College for conventional debate
Lady Shri Ram College for Literary quiz
Other Awards
Best Interjector Prize in Ramanujan College
Special Mention/Consolation prize in Jesus and Mary College and Miranda College for conventional debate, Shaheed Bhagat Singh College for Round table Conference and Panel Discussion competition
The dynamic duo of Neha Singh and Safa Mohammed Saleem from Sage won various awards for the college, most memorable of which was a cash prize of 10,000 at REC National Debate.
Other awards won by them include:
Best Team Award at Ramanujan College, PGDAV College and Gittarattan International School of Business Studies
Runner up Team Award at National Debate Competition in Rajdhani College, Shaheed Bhagat Singh Evening College and Dayal Singh college
SALVATION GENERAL AWARENESS SOCIETY
Secured 1st position in Vikiran -The Annual Fest of Delhi Technical Collegefor a stage play titled SAINIK -EK HERO
Organized a rally and street play on Eco-Friendly Diwali in Malviya Nagar
Performed a street play- 'Pakhi' on the inauguration of Women Empowerment Cell of Sri Aurobindo College.
Trivia -The Quiz Society :
The Quiz Society of Sri Aurobindo College "Trivia" was founded in September 2017 as part of an endeavor to stimulate intellectual fervor among the students and improve and expand their knowledge either in general or specific subjects through fun filled event. Quiz comes under event which can be extremely competitive but it's structure make it entertaining. It encourages team work, provoke healthy debates and enable out of box thinking practices. Overall, It provides an interactive platform of learning.
Buoyed by beaming enthusiasm among students on its inauguration, Trivia held a number of follow up programs in academic year 2017-2018 which are listed below:
ORIENTATION & Inauguration on 27 September, 2017.
TALENTHUNT & QUIZ Competition: 1st November, 2017 for the freshers of the College.
SEMINAR ON "Civil Services as a Career" organized by Trivia on 5th February, 2018, to address the queries & problems faced by the college students and to make the students aware of opportunities towards building their career. The key speaker was Dr. Piyush Chaubey, faculty of GS core with over 15 years of teaching experience.
GENERALGROUPE DISCUSSIONS - on cross cutting issues active participation by Trivians & Non-Trivians.
TRIVIA'18 - the first inter-college General Quiz Competition was organized as part of "Mehak'18" the cultural fest of the College.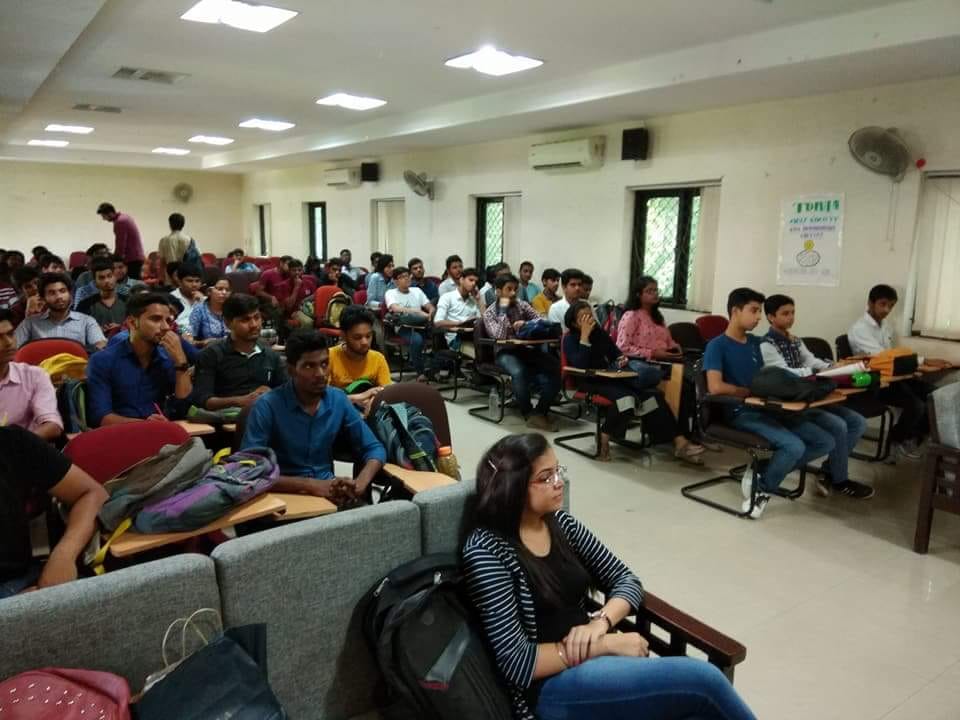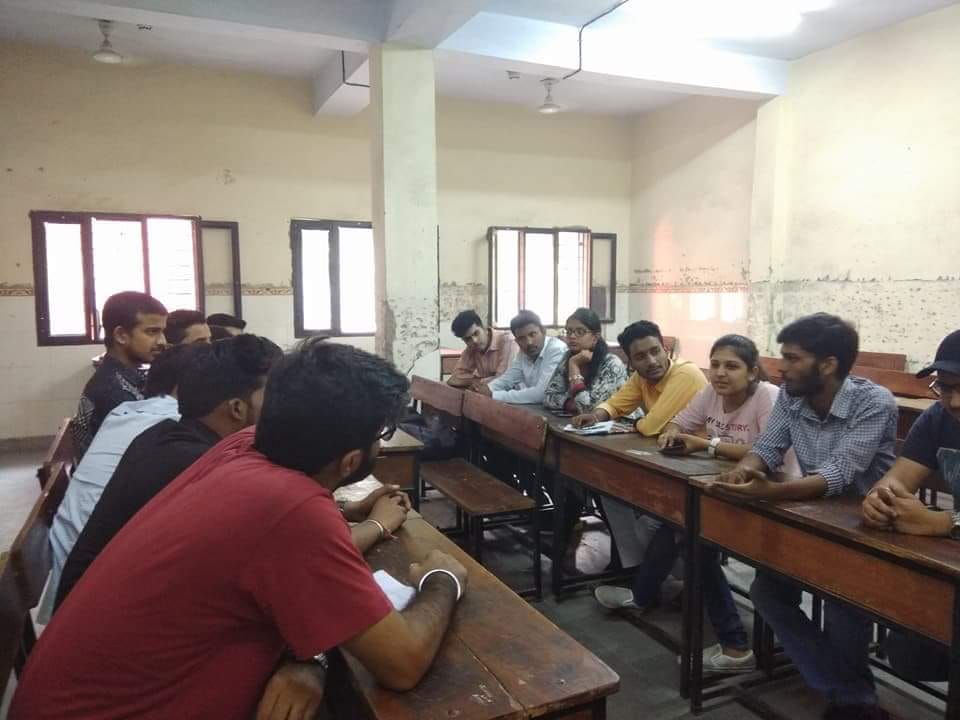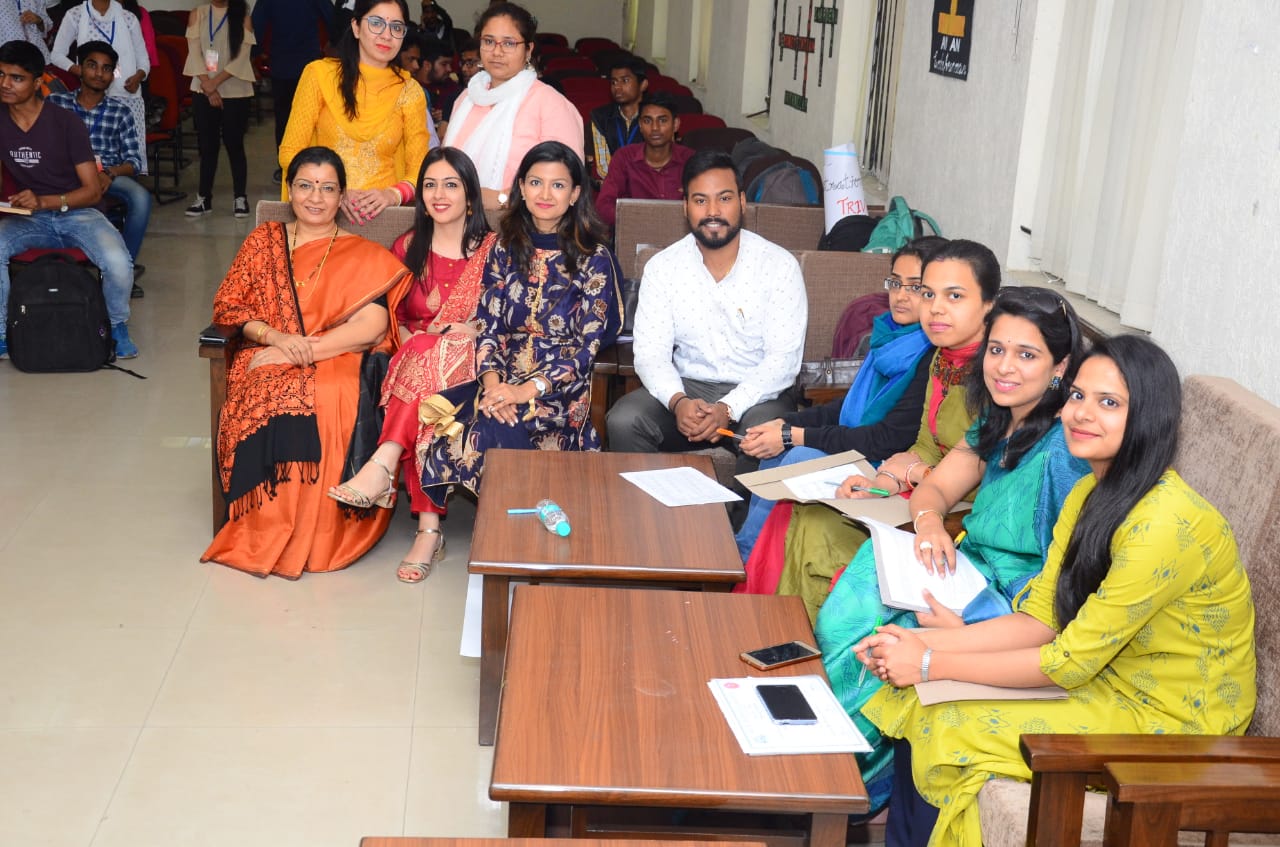 Achievements of various societies in year 2016-17
In the current academic year 2016-17, the Cultural Society of the college was passionately led by its overall Convener, Dr. Meeta Mathur. The college successfully held its three-day annual cultural festival "Mehak-2017" from 19-21 January. The Chief Guest of the event was Delhi state BJP Chief Shri Manoj Tiwari. Yajur Band put up a scintillating performance for the audience. More than 30 Delhi University colleges participated in various events. The college also witnessed a star evening performance by pop singer Hardy Sandhu and saw an overwhelming footfall of more than 5000 students. The Cultural group of our college has nine societies. During this year, they made remarkable strides in their respective fields and earned great accolades across colleges all over India. The achievements of the different societies are as follows:
** Allegro (Western Music Society) Society prepares the students for western music competitions under the supervision of Dr Anjali Bhatnagar.
** Bandwagon (Fashion Society) : Led by Dr. Vandana Bhalla, it won the following awards:
4th March 2017: 3rd position at Mayetri College, DU.
8th March2017 : 2nd position at JECRC University, jaipur.
20th March 2017: 2nd position at Satyawati college, DU.
20th November 2017: 1st position at Noida International University.
Vansh Alagh won the Best Male Model at Shivaji College.
Shiksha Sehgal won the Best Female Model at Maitreyi College.
Third position at Satyawati College
** Crunk (Dance Society) : Under the able guidance of Dr. Soni Rastogi they won the following awards:
First position at Lady Hardinge Medical College, Northcap University, National Institute of Technology, Mittal Institute of Management, National Institute of Fashion Technology, Institute of Information Technology and Management, and JECRC University, Jaipur
Second position at AIIMS, SRM University, Indira Gandhi Technical University, Galgotias University, RLA, Kalindi College, Zakir Hussain College and Jamia Milia Islamia; third position at St. Stephens, Satyawati, Mata Sundari, Amity, HMR Institute of Technology and Management.
Qualified for Hip Hop International Competition from Delhi.
** Moksh (Dramatics Society) : It has beaten all previous records with a total of 79 street play performances and 9 stage plays under the guidance of Dr Meeta Mathur and Dr Sudheer Pratap Singh.
In the street play event, Moksh won first prize at Tecnia Institute and UNHAD Foundation, second position at MDI Gurgaon, Manipal University and Ambedkar College; third prize at BVIMR, Hindu College and Mata Sundari College.
Special Appreciation Awards at BVIMR, G.B. Pant Engineering College, IIMT, Bhagidari Jan Sahyog Samiti and Bhagwan Parshuram Institute of Technology.
Sumit Arora, President of Moksh, bagged various awards for Best Actor and Best Director at Udaan Mahotsav and Audience Choice Award at Swami Shraddhanand College.
In the stage play event, they attained first position at JMC and Satyawati College, and consolation prize at SRCC.
** 3Ps : The society encouraged students for photography, painting, and poster making, under the guidance of Dr Parvita Kumar.
** Sage (Debating Society) : Under the leadership of Dr. Aprajita Chauhan they achieved the following:
Safa won the award of best interjector at Ramanujan College and Daulat Ram College, second best speaker at Kamla Nehru College, and special appreciation at Shyam Lal College.
Neha won the second prize at Ramjas College and Sri Aurobindo College, and third best speaker at Shyam Lal College and Guru Gobind Singh College of Commerce.
Hemant won the award of Best Member of Parliament at Jesus and Mary College, Best Speaker at SGND Khalsa college and special appreciation at Shyam Lal College.
Vatsal Chaudhary won the Best Interjector at Daulat Ram College.
Aditya won the award of Best Speaker at Daulat Ram College and second best speaker at Janki Devi Memorial college.
Sagar won the honourable mention at Shaheed Bhagat Singh College.
Nitish won the first prize at Sri Aurobindo College.
Ravi won the Best Speaker at Sri Aurobindo College.
Safa and Neha together won the Best Team at Indraprastha Institute of Technology and Management and third best team at Swami Shraddhanand College.
Neha and Hemant won the award of second best team at Janki Devi Memorial college.
Hemant and Kanishka won the award of Best team.
Yash and Aditya won the award for the second best team at Kalindi College.
** Salvation (General Awareness Society) : Led by Dr. Veena Malhotra This society was created for general awareness amongst the students regarding cleanliness, environment and blood donation.
** Spic Macay : SPIC MACAY (Society for the Promotion of Indian Classical Music And Culture Amongst Youth) is a voluntary movement that organizes events (over 5000 annually) of classical music and dance, folk arts, crafts etc. in educational institutions throughout the world. This society has been taking Indian Classical music, dance, theater, yoga, and folk arts to schools and colleges across the country for more than three decades. They introduce the young students to several upcoming as well as senior renowned artists, giving them an opportunity to witness their insightful performances. Such enriching interactions help the students in developing a wholesome understanding of our rich heritage of art and culture. Headed by Dr. Renuka Anoop Kumar the College organized two events in association with Spic Macay:
Heritage walk to National Museum with a group of 50 students along with some faculty members in October 2016.
A cultural performance by Rajasthani folk group led by Ustad Rehmat Khan Langa was organized in January 2017.
**Taleem (Indian music Society) : Under the able guidance of Dr Sangeeta kaul society trains our students in Indian classical singing.