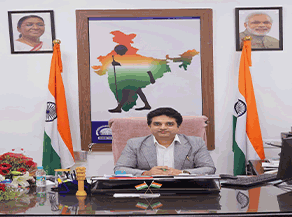 Dear Friend,
Greetings from the Faculty, Staff and Students of Sri Aurobindo College, University of Delhi...
I welcome you to the family of my college. My message is simple. Have ambitions and aims and let your hard work, enthusiasm and resilience take you to any heights you desire. Our endeavor is to channelize the energies of our youth enhancing the connectivity between heart, mind, body and soul.
The college faculty provides education to the students, which allows them to harness their skills, realize their dreams and ignite their passion to excel. Respect for your teachers and college staff, mutual love and cooperation, discipline, focused approach, the notion of compassion and sacrifice, the passion for cleanliness of your college premises and the environment in general, agility and alertness for eco-balance, would definitely go a long way to provide you a blissful and successful life. Time management is another asset in the stride for success; ensure your attendance in the classes. Strive to be the best human being while foraying in the competitive life with honesty and integrity.
The College has seen remarkable growth over the years. The quality of the incoming students and the University results has shown a progressive upward movement. Continual addition and updation of essential amenities and facilities has made our College a prestigious institution for academic and co-curricular pursuits. Student engagements in extracurricular activities like Sports, NCC, and Cultural Societies are encouraged under the able guidance of our skilled faculty. Our commitment is to provide a student-centered environment and the college is dedicated to education covering a broad spectrum.
I extend a warm welcome to all the students and wish them success.
Dr. Vipin Aggarwal
Principal